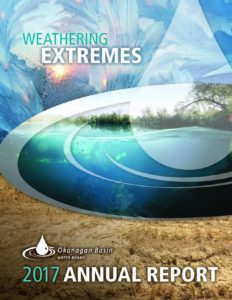 The Okanagan Basin Water Board will host its annual public meeting at the Westbank Lions Community Centre, 2466 Main St. in West Kelowna, this Friday September 8, from 8:30am till noon.
The theme of the meeting is "Weathering Extremes". From cold weather and floods to fires and droughts, 2016-17 has been a year of extreme weather. The board welcomes keynote speaker Max Kniewasser from the Pembina Institute, who will be talking about new climate policies of the provincial and federal governments, and climate adaptation and mitigation strategies for local governments.
REGISTERED YET? This is a FREE event, but SEATING IS LIMITED.
REGISTER at https://weatheringextremes.eventbrite.ca.
The theme of our Annual Meeting is "Weathering Extremes." We'll be looking at what happened in the Okanagan this spring with historic flooding, and what we're experiencing now with record-breaking high temperatures and low precipitation levels. We'll also be looking at how local governments and individuals can better prepare for these extremes. JOIN US!
We look forward to seeing you!