"Water, like religion and ideology, has the power to move millions of people. Since the very birth of human civilization, people have moved to settle close to it. People move when there is too little of it. People move when there is too much of it. People journey down it. People write, sing and dance about it. People fight over it. And all people, everywhere and every day, need it." – Mikhail Gorbachev
Here in the Okanagan, we've had a summer of news and controversy about lakeshore protection.  One study, covered by the Globe and Mail, reported that when provincial staff randomly checked 35 lakeshore properties on Okanagan Lake, they found 35 violations for structures or other disturbances to the foreshore. In July, a Foreshore Inventory Mapping study by a group of local governments and environmental organizations (OCCP), found that only 46% of Okanagan Lakeshore remains in a natural state. Later that month, in an editorial to the Vancouver Sun, Tom Siddon, former federal fisheries minister, called on the Premier to set a national example and improve protections through the modernization of the Water Act.
I think of this situation as "death by a thousand cuts," and would like to address it in a way that doesn't involve a thousand Band-Aids. This is an issue for water quality protection, as much as anything. I had a visitor from China this summer who couldn't get over the health of our water, protected by the natural areas around the lake.
A major controversy is: "Who should be in charge of enforcement?" As the provincial and federal government cut staff to grapple with budget deficits, local governments are caught in a bind: living with the situation, or taking on a new set of responsibilities. Both are undesirable. Nonetheless, by extending their zoning out into the lake, local governments have been able to control other, comparable, activities like houseboat moorage through their municipal bylaws.
Meanwhile, people who want to follow the rules are caught in a tangle of conflicting regulations, and inefficient processes. More local control would also help in this case – although expanding local planning and bylaw departments would be a new expense for local government, the systems are well established and mostly very efficient.
To me, the most important question is, "What is our community vision for the lakes?"  Now, development permitting and planning is done by each jurisdiction independently. Regional growth strategies can bridge communities within each regional district, but there is no mechanism to look at development patterns for the lake as a whole.  And no one community can just assume that the others will remain pristine.
Do we all want a fully-developed shoreline?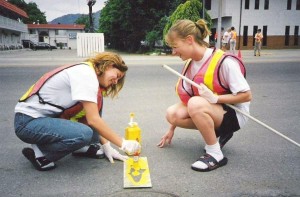 The next logical step is to take the foreshore maps, showing the sensitive habitats and the location of the disturbance, and overlay them with the planned development areas and zoning for all the communities around the lake. This kind of whole-lake planning process will take away the problems of fragmented intentions, and open up the conversation of what all our communities would jointly like to see for the Okanagan valley.
When we have a clearly articulated idea of what we would like for the lake, going into the future, it will be much easier to get there.