"Sunshine is delicious, rain is refreshing, wind braces us up, snow is exhilarating; there is really no such thing as bad weather, only different kinds of good weather." – John Ruskin
Yesterday in Kelowna, I saw a woman standing on the sidewalk, all decked out in ski gear – boots and skis on.  It was dark, and there was no snow.  I don't have an explanation, just to say, many people move here for the winter sports.
If you aren't a skier, and your winter experience involves driving around, fighting the elements, snow seems like a terrible bother.  I won't post the picture of my totaled Toyota on the Coquihalla.  Whether you love it or not, I'd argue that snow is even more important to the Okanagan in the summer than the winter. 
Think of snow as a giant, slow-release water reservoir.  Most of the planning and infrastructure changes we need for
adapting to climate change
involve ways to adapt to changes in snow cover. Less snow means less skiing, less boating, less wine, less apples, less cherries and most other things we hold dear. 
Water shortages are more often from a lack of storage capacity (in snow or reservoirs) than from lack of precipitation each year.  About 85% of the water we extract here is used for irrigation. Although a certain portion of over-irrigation seeps down into aquifers, most of the water is pumped back into the atmosphere through evapotranspiration by plants.  From there, it travels East, to fall somewhere in the interior rainforest of the Kootenays, leaving the Okanagan dry.
Because of the huge irrigation needs, the vast majority of our water use is in July-September.  The amount we use depends on the weather: between 1996 and 2006, total water use ranged from about 187,000 ML in 1997 (a relatively wet year) to 247,000 ML in 2003 (an extremely dry year). In dry years, when less natural precipitation happens, we need much more irrigation.
There is uncertainty about the effects of global warming, but strong consensus on the general trends for water. Our recently-completed Okanagan Basin Water Supply and Demand Project found that, similar to many areas, our winters are likely to become shorter and warmer (on average), with less snow and more rain.
Paradoxically, a winter with above average precipitation (in the form of rain) could be the precursor to a summer of water shortages. This is where snow storage comes in. Slowly melting snow recharges groundwater, keeps flows in the streams for fish, and trickles down into drinking water reservoirs, delaying their draw-down in the hot summer irrigation season.
Our water systems are designed around the idea of relatively predictable snow storage. If more of the precipitation comes as rain, we have limited capacity to hold it and excess water has to be released over the dams in the spring to reduce flood risk.  Come summer, it is gone. Our water supply study found that climate change alone could cause a 49% reduction in Mission Creek summer flows by 2041-70. 
The most obvious way to adjust for less predictable snow storage is to increase the number and size of reservoirs in the upper watersheds. Although these have hight engineering and infrastructure costs, if we capture and hold the rainwater, we can make up for less snow.
Right now, reservoirs make up about one third of the licensed water supplies in the valley – 133,000 out of 443,000 ML (million litres). Reservoirs have their own environmental costs, and most of the 'easy' sites in the  Okanagan have been developed. After the recent disastrous dam failure in Oliver, it will be even more difficult and expensive to put in new reservoirs above inhabited areas.  This makes existing reservoirs extremely valuable. The Okanagan Basin Water Board and local utilities have had a long-time campaign to reduce pollution from resource or recreation developments around drinking water sources.
Okanagan Lake is the largest storage reservoir in the valley, but if we hold more than full pool, roads, homes, and infrastructure will be flooded.  If it is drawn down or "mined," we risk taking it below the sill level of the dam in Penticton, leaving docks high and dry and (in an extreme case) destabilizing the floating bridge. 
Another way is to slow down the rainwater as it runs off the land and direct it into wetlands or infiltration basins to refill the aquifers. This is a  great practice, but mostly applies to the unconfined alluvial aquifers at the valley bottom. 
A third way is to increase the efficiency of irrigation and water use in agriculture, industry and at home. Strategies range from expanding the re-use of treated wastewater – offsetting fresh water demands – to replacing ornamental turf-grass with drought-tolerant plants.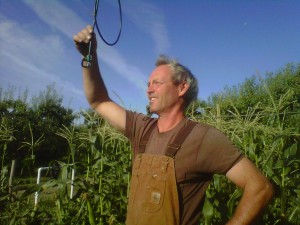 It may seem improbable on a hot July day, but putting in drip emitters and water-wise landscaping is one way that individual Okanagan residents can adapt to less snow in the mountains in January. 
We do have some things to be thankful for. Many cities around the world depend on melt-water from rapidly receding glaciers. Once the glaciers are gone, it is hard to adjust to reductions in water supply. We can also be thankful that we have the knowledge, resources, and a bit of time to adapt water systems for long-term changes. We can always be thankful for good snowfalls.