"All shall be well, and all shall be well and all manner of thing shall be well." ― Julian of Norwich
The other night I gave a talk to the North Okanagan Naturalists Club: a group of lively, mostly retired folks, interested in parks, birding and botany.  Given only half an hour, and asked to cover the spectrum of water issues, I bounced along topics relating to biology and the environment, trying to build a bridge between this nature theme and the nuts and bolts of water management.
Hands shot up at the end of the talk, launching into a public discussion on natural resources.  Rather than fish and riparian restoration, the Naturalists wanted to talk about water agreements with the Americans, Okanagan population growth, and water law.
One woman in the third row, stood up and said, "What's wrong with us? When are we ever going to regulate groundwater?"  While I don't like to put a too positive spin on it, it felt good to say – "Water policy is slow to change, but I believe we will have this legislation in place in the next few years." Right now, BC is reforming the century-old Water Act into the new Water Sustainability Act, and although we can debate the details, groundwater is one reason to rally behind getting it done.
The need for groundwater regulation is one of the areas of greatest agreement in BC, because it's pretty much open-season on well drilling.  One of the biggest obstacles is that, compared to stream flow, groundwater is hard to measure. When I was younger, I imagined aquifers as giant underground caverns, with rain dripping from the ceiling and wells like giant straws, sipping out the water – I'd guess that many people see them this way.
Real aquifers are layers of rocks and sand – water running through fissures in the mountains, and saturating deep layers of glacial gravel.  Nearby aquifers can have radically different properties, because of their underlying geology.  And in BC, any given one can have dozens of straws in it, with no organization or plan about what to do if the rate of well pumping exceeds the recharge seeping down slowly from rain and snowmelt. It can take decades for water from a good wet year to reach the level of an aquifer – 400 feet deep for some Okanagan wells.
The Naturalists are concerned, in part, because groundwater supports environmental health, especially in arid landscapes like the Okanagan. It feeds water back to the surface. Think about streams on frozen mountain-sides, before the snow melts. Fish and other stream-living critters rely on groundwater to keep them warm (a.k.a. above freezing) in the winter, and cool in the summer.
Around the world, some of the biggest, raging water conflicts come when there are many people relying on groundwater for their crops, industry and drinking water.  Everyone is looking to meet their own needs but unintentionally drawing down the aquifer. Other conflicts come when people put in large production wells (or a series of smaller ones) diverting water that would normally flow into a stream that is already fully-licensed.  If the stream runs dry in the summer, the surface users would be required to cut back, but there aren't good laws to stop the groundwater pumping.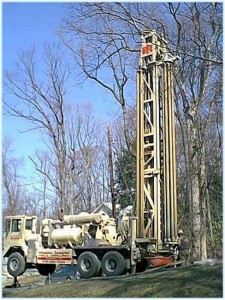 So why don't we have regulation yet?  It is hard to agree on new rules, for one thing, and challenging to come up with a simple system for tracking and managing well drilling and pumping. The BC government has been downsizing, and wants whatever goes in place to be super efficient.
Some of the debate right now is over what's a big well (large extraction), and what's a small well? Should the definition of big and small change in areas where the aquifers are weak? What should happen with existing wells? Should we have a first in time, first in right system giving priority to the people who've had wells the longest? How can groundwater licences or permits be integrated into the system of surface water licensing? How do the water rights of First Nations (working its way through the legal system) fit into any water allocation puzzle?
At the Naturalists meeting we joked about another reason for slow change in groundwater policy.  BC is one of the greatest places to live in the world, and we are all grateful to be here. One source of strength and pride, and some ironic despair, is our culture of conflict-avoidance.  We like to be nice to each other.  At the same time, we really don't like being told what to do. These two cultural characteristics – maybe a holdover from being a frontier province settled, in part, by large numbers of polite English people – make it particularly difficult to set policy in an area where we've had complete freedom.
We will be doing ourselves all a favour, and being genuinely nice to our neighbours and grandchildren, if we can overcome the hurdles, keep up the momentum, and carry forward with groundwater regulation in the new Water Act.