"I love a sunburnt country, a land of sweeping plains, of ragged mountain ranges, of droughts and flooding rains." Dorothea Mackellar
If you want to understand water in the Okanagan, don't look at the lake, look at the hillside.
Sometime last week, I found myself scrambling up a rocky slope near Okanagan Falls – skirting patches of cactus, breathing heavily, but managing to keep up. It was late afternoon and we were trying to make it to the rattlesnake den before dark.
Off toward Skaha Lake, swallows circling on the updrafts; underfoot, wildflowers exploding through the sagebrush and bunchgrass: shootings stars, locoweed, and tiny desert annuals with almost-remembered Latin names.
This is a dry, bony landscape.
Although my work has led me to water, for a long time I was a student of the desert – how life hangs on in these harsh conditions.
That afternoon, the snakes cooperated. We saw five or six, coiled in rest, or moving slowly to deeper crevices – there were a few gentle rattles, but we'd come in peace and with an attitude of respect. I let the herpetologists lead the way, keeping a conservative distance.
Just as the light began to fail the clouds opened up, and we ran back to the house in the rain.
It's been a wet spring, with full streams and muddy run-off.  In years like this, it is hard to believe in water shortages – yet how can you question the story of dry-land plants and animals?
Looking at the snakes and cactus, our lakes seem like a shocking accident of geology – glacier-carved rifts collecting water from small creeks over many years, spilling channel to channel. But here, like in the deserts of Arizona or Australia, sudden showers are as much of the landscape as the heat.
It's the miracle of the Okanagan: vast pools of clean, clear water – a fertile oasis and salmon run deep in the Interior. In our near history – the time of settlement – it's been extended to the miracle of the tap and the hose faucet, fruit farming and vineyards.
Meanwhile, at home, I'm just trying to get something to grow in my yard.
Gardens are very personal expressions of our sense of place. They take us through hard times, feeding the home front.  They also take us through hard times of the heart.  When my friend Gary died in a boating accident, I ran outside, sat in the dirt and tore up weeds, weeping and cursing. People turn to gardens for beauty, for food and for healing.  So what does it say, when most of my trees and bushes die?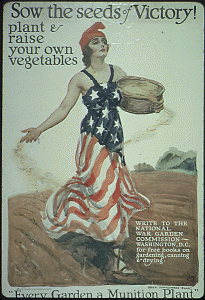 I love to plant, but hate to water. To grow in this landscape I have to look to the hillside for inspiration.
This spring I must forsake the water-loving blueberries grown in memory of other gardens in other climates, and make new alliances with bright yellow coreopsis, red gallardia, and orange day-lilies who will love me despite neglect. In BC, they call it "Zero-scaping,"  – an empty-sounding word for a garden style that focuses on color and form of drought-loving plants.
For three years I've been mowing a patch of green grass and weeds, and watering sporadically with the hose as I watch my ferns and blueberries go to plant-heaven. A variety of excuses – house painting, family crises – rescue me from self-righteousness as I spread the gospel of water conservation; but this year, I'm going to try to practice what I preach. 
There is so much to do. I'm intimidated by the expanse of sod to remove, so I'm starting slowly. I want to take advantage of the rains this spring, to get my elderberries and hawthorns established. If they can grow down to the water table, they can make it on their own.
I'm also buoyed by the idea of being liberated from my cranky mower, and tired of feeling hypocritical for not taking my own advice – finally learning to xeriscape.
Yes, this year, I'm spending the summer at home with my hands in the dirt, cultivating a sense of place and learning the Okanagan landscape. 
And to my other optimistic gardening friends out there, we have help. The Okanagan Xeriscape Association has a beautiful internet database of plants; and information about soil building, mulching, and better irrigation timing and design. "Slow it, Spread it, Sink it!"is a guide for using whatever water falls as a gift of the sky. And I can never quite keep up with the pace of new information on Okanagan WaterWise.
For inspiration, here's another short video from Graham Campbell, a wonderfully silly but brilliant rap about xeriscaping. "It's a xeriscape, man, and it all makes sense…"