"It isn't pollution that's harming the environment. It's the impurities in our air and water that are doing it." – Dan Quayle
Crammed in a cab with Bob Sanford and David Brooks, listening to adventure stories about Middle East river agreements.  I jumped in with one of my few international water anecdotes. "An Ethiopian hydrologist told me that water security – for them – is five litres a day, per person, within a three kilometre walking distance."
The driver gave a derisive cough. "That guy must have been from the countryside," he said, shaking his head. "I'm from Addis Ababa. We used at least six litres, and we didn't have to walk for it."
Strolling from kitchen to bathroom, I might use 100 litres of pure, fresh water a day without giving a second thought. If I wander out and turn on my sprinklers, that might go to 1000. And I'm average!
Let's raise a glass to drinking water: so cheap, so abundant, we wash our cars with it. If it weren't for the empty plastic bottles lying around, water would be almost invisible.
Back at home, I asked some guys next to me at a restaurant what they thought about drinking water. "We don't think about it. We don't want to. We just want to be able to get it." Tommy and Ken were executives from the auto industry, and after some discussion, they admitted to being skeptical about climate change, but aware there were problems out there. "Without water there's no life. Look at the Dead Sea, it's dying!"
Growing up in the mountains, my image of pure water is to stop and drink from a stream – cold and slightly gritty, tasting faintly of moss.  The truth is (sadly) less poetic. My early thirst for raw water explains a childhood of stomach upsets, and an adult immunity to tourista.
BC's water sources are wild – and wildly variable. Greater Vancouver has giant, protected catchment areas, surrounded by fences to keep stray hikers away from the reservoirs. Their water flows down to a fabled, massive new filtration plant.
At the other end of the spectrum, some small communities resist even chlorination. Like me, they love the taste of raw water.
In between, water utilities tap streams and aquifers, religiously sending weekly samples for pathogen testing; quietly, steadily delivering near-perfect water to your kitchen sink. "It's the best deal in the world!" says Bob Hrasko, from the Black Mountain Irrigation District. "Only pennies a day, for all you can drink."
May 13-19 is "Drinking Water Week" in BC.  It's a good time to hug your local water supplier. Buy 'em some flowers.
Drinking Water Week coincides with the run-off season in BC – "full freshet," when snow-melt fills ditches and stream-banks. This is the season of water advisories, when fast-moving rivers carry loads of new silt, hiding microbes from sterilization.  This is the season when water providers work full-tilt, so we can save our worries for other things.
I happened to be at a water conference in Vancouver in 2007 when a freak spring storm overwhelmed the existing treatment capacity. We awoke to a complete shut-down of the coffee-making industry in downtown Vancouver: an emergency water advisory, cutting at the core of urban productivity.
After comparing notes with the Ethiopian cab driver, the memory of stumbling conference delegates is humorous and pathetic, but there was a mood of real helplessness in the crowd milling around the locked Starbucks in the underground mall.  Someone with a bottled water truck rescued us before the situation became desperate.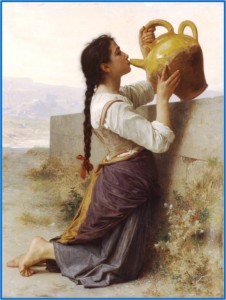 There are still places in BC – some rural communities, some First Nation's reserves – who struggle for potable water year-round. It's not only a shortage of treatment plants, but a shortage of trained operators across Canada.
So if you are feeling cranky this week, casting around dubiously for something to be grateful for; if you feel down on your luck; if you feel thirsty for something really special – go have a glass of water.
Here's a movie about the secret ninja that patrols our mountains, helping suppliers keep water safe for the good people of the Okanagan.  We call him, "Water Warrior."