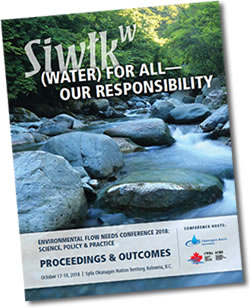 The Siwłkw (Water) For All – Our Responsibility conference was hosted by the Okanagan Basin Water Board and the Canadian Water Resources Association.
Now available:
This document summarizes the conference and provides recommendations for further action.
Thanks to everyone who contributed to the success of the conference through participation on the Organizing Committee and as sponsors. Speakers, facilitators, and delegates all made important contributions as well. The conference program, which lists contributors, speakers and facilitators, is available at www.obwb.ca/efnconference.
For more information about conference format and proceedings, please: