We're very excited to let you know about a special workshop coming to the Okanagan, co-hosted by the Okanagan Basin Water Board, the Partnership for Water Sustainability in BC, and the Irrigation Industry Association of BC (IIABC).
"FLOW & GROW – Balancing Economy, Ecology and Settlement in the Okanagan" is a day-long workshop on Nov. 29th, 2016 at the Coast Capri Hotel in Kelowna (1171 Harvey Ave.), from 7:45 am – 4:30 pm, featuring:
CBC's Bob McDonald, host of the award-winning radio program "Quirks and Quarks,"
Lower Nicola Indian Band Chief Aaron Sam, lawyer and long-time advocate for sustainable use of lands and waters,
Bob Sandford, EPCOR Chair for Water & Climate Security at the UN University Institute for Water, Environment & Health,
Michael Blackstock, speaking on the Blue Ecology,
plus MANY others!
Together, we will be looking at water sustainability – how to respect ecosystem and cultural values, ensure food security and build water-resilient communities.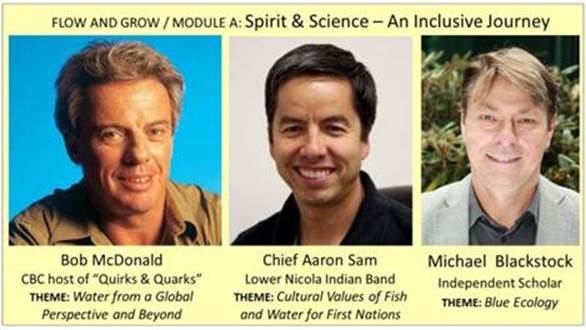 REGISTER EARLY! We expect that with this line-up, seats will fill fast.
For full details and to register visit: https://www.irrigationbc.com/page/convention-seminars.