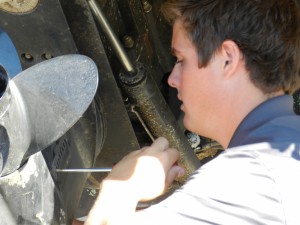 Kelowna, B.C. – Those attending an invasive mussel inspection workshop this week got more than expected when a boat carrying the concerning molluscs showed up for an actual inspection and decontamination.
The workshop, held in Kelowna's Cook Street Boat Launch parking lot Monday, was organized by the Okanagan Basin Water Board and its WaterWise Program's "Don't Move A Mussel" initiative in partnership with the B.C. Ministry of Environment.  It was geared to marina and yacht club operators but included RCMP boat program and local government bylaw staff, as well as Okanagan Nation Alliance fisheries representatives.
"It was an incredible opportunity to view the actual mussels on a boat first-hand and then discover just how hard it is to detect them," noted OBWB Operations and Project Manager James Littley.
As it turns out, an Ontario couple owns the boat and is now moving to the Lower Mainland. The boat was moored in zebra mussel-infested Rideau Canal for a couple months before being transported to its new home. The owner inspected the boat in Ontario before leaving that province. The boat was then stopped this past weekend by Alberta inspectors and, when mussels were found, it was decontaminated. Alberta followed up and called the B.C. Conservation Office (C.O.), in charge of inspection and decontamination in B.C., to tell them a boat was on its way. The boater was then ordered to come to Kelowna for a follow-up inspection.  The boat pulled into the parking lot where the training was taking place and within a few minutes, B.C. inspectors detected several sand grain-sized mussels around the boat's legs, trim-tabs and props.