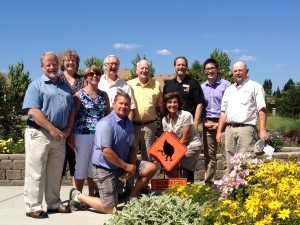 Kelowna, B.C. – With the heat of summer upon us, and looking at the stats for water use in the Okanagan, this valley's mayors and councillors are asking residents to "Take the Pledge to MAKE WATER WORK" this season.
Make Water Work (www.MakeWaterWork.ca) is an effort by the Okanagan Basin Water Board's Okanagan WaterWise program, and local government and water utility partners throughout the valley, to encourage outdoor water conservation during our hot Okanagan summers, when most water is used.
Several valley mayors and councillors gathered this morning to take the pledge, invite residents to learn more about the water of the region and take the pledge too.