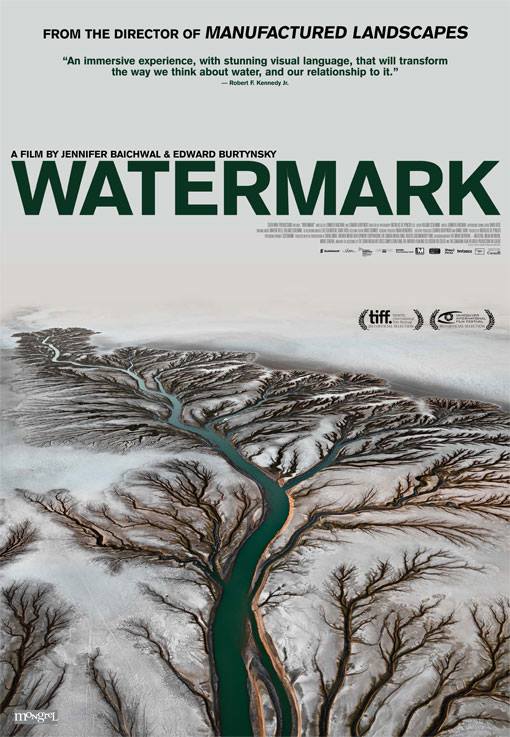 Celebrate UN World Water Day / Canada Water Week with us!
Join us for a special presentation of this award-winning documentary – showing ONE NIGHT ONLY, SINGLE SCREENING at Famous Players Orchard Plaza 5 Cinemas in Kelowna.
ONE NIGHT ONLY. SINGLE SCREENING.
Monday, March 17, 2014
7:00 PM to 9:00 PM
Tickets available now at http://www.eventbrite.ca/e/watermark-tickets-10679102483?aff=eivtefrnd
…Presented by Okanagan WaterWise in partnership with REEL CHANGE SustainAbility Film Festival
---
WATERMARK – Award-winning documentary from Edward Burtynsky & Jennifer Baichwal.
Watermark – named Best Canadian Film of 2013 by Toronto Film Critics Assn. and having received significant attention and glowing reviews – is based on the phenomenal photography of Edward Burtynsky, illustrating our complicated relationship with water.
"While trying to accommodate the growing needs of an expanding – and very thirsty – civilization, we are reshaping the Earth in colossal ways. In this new and powerful role over the planet, we are also capable of engineering our own demise. We have to learn to think more long-term about the consequences of what we are doing, while we are doing it. My hope is that these pictures will stimulate a process of thinking about something essential to our survival; something we often take for granted—until it's gone." – Edward Burtynsky
Watermark brings together diverse stories from around the globe about our relationship with water: how we are drawn to it, what we learn from it, how we use it and the consequences of that use.
We see massive floating abalone farms off China's Fujian coast and the construction site of the biggest arch dam in the world – the Xiluodu, six times the size of the Hoover. We visit the barren desert delta where the mighty Colorado River no longer reaches the ocean, and the water-intensive leather tanneries of Dhaka. We witness how humans are drawn to water, from the U.S. Open of Surfing in Huntington Beach to the Kumbh Mela in Allahabad, where 30 million people gather for a sacred bath in the Ganges at the same time. We speak with scientists who drill ice cores two kilometers deep into the Greenland Ice Sheet, and we roam the sublime pristine watersheds of Northern British Columbia.
Shot in stunning 5K ultra high-definition video and full of soaring aerial perspectives, this film shows water as a terraforming element and the scale of its reach, as well as the magnitude of our need and use. This is balanced by forays into the particular: a haunting memory of a stolen river, a mysterious figure roaming ancient rice terraces, the crucial data hidden in a million year old piece of ice, a pilgrim's private ritual among thousands of others at the water's edge.
Watermark is directed by multiple award-winning filmmaker Jennifer Baichwal and renowned photographer Edward Burtynsky, and is the third part of Burtynsky's Water project, which includes a book Burtynsky: Water and a major photographic exhibition. Filmed and produced by Nicholas de Pencier and three years in the making, it is a logical extension of the trio's previous collaboration, Manufactured Landscapes. In Watermark, the viewer is immersed in a world defined by a magnificent force of nature that we all too often take for granted – until it's gone.
View the trailer here: http://www.youtube.com/watch?v=QOPLs_ogF-0