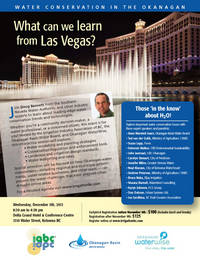 Presentations now posted!
The Water Board recently teamed up with the Irrigation Industry Association of BC to present a special day-long workshop in Kelowna on Dec. 5, looking at what water conservation lessons the Okanagan can learn from Las Vegas.
The event featured Doug Bennett from the Southern Nevada Water Authority and many other water experts.
Find presentations and much more here.