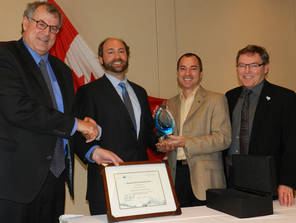 On March 22, 2013, the council was awarded the first-ever Council of the Federation "Excellence in Water Stewardship Award" for B.C.
The Council of the Federation – a collaboration of Canada's provincial and territorial premiers – established the award to recognize outstanding achievement, innovative practice and leadership in the area of water stewardship.
In announcing the award, B.C. Environment Minister Terry Lake noted "Fresh water is one of the most precious natural resources we have.  While the B.C. government continues to act on 'Living Water Smart' – which is our vision and plan for keeping our water healthy and secure for the future – what the Province does is only part of the solution. Local and regional groups like the Okanagan Water Stewardship Council are stepping up and demonstrating leadership throughout the province."
Find the full News Release here.
Find the Backgrounder here.