"I conceive that the great part of the miseries of mankind are brought upon them by false estimates they have made of the value of things." – Benjamin Franklin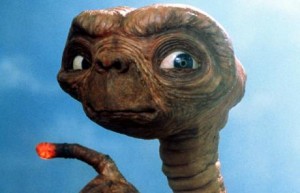 Expensive On Other Planets:  In Salt Lake City, I once met an exobiologist who studied the bacteria that live under the Antarctic ice-sheet. Camping in a tent, she spent her days diving into holes in frozen lakes to collect samples. She told me it was a "Mars model," considered one of the few places on earth that can approximate extraterrestrial conditions.
NASA's latest mission just spent $2.5 billion dollars to actually look for water on Mars. Its simple presence is a signal that life can exist, whatever planet you are on. Whether or not one feels this is money well spent, it shows the lengths we'll go and the money we'll spend on water.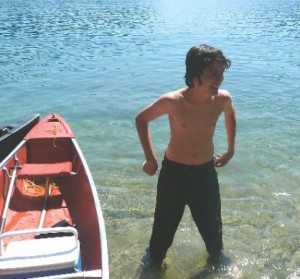 Priceless On Earth:  Here on earth, there is intense and growing (but controversial) interest in defining the value of water and the monetary value of ecosystems in general. There are a wide range of opinions about what "values and valuation" imply, and whether a dollar value can be calculated for water at all.
I have struggled with these competing ideas.  On one hand, we have social and moral values, spiritual and environmental values. We value our families and living in a valley free from war and pollution. We appreciate the intrinsic value of water like we respect the intrinsic value of human life.  It is inextricably linked to all we hold dear.
The indigenous Okanagan people, who have lived here for time beyond measure, are very explicit: water is alive and sacred, and essential to all other lives.
Natural Resources or Nature?  On the other hand, there are the actual monetary values that are attached to water treatment, water delivery, and the things we can do with it.  Someone asked me this summer, "Should farmers be able to sell water from agricultural wells to keep the farm afloat?"
Hard questions.
Calling water a "natural resource" immediately frames it as something for human use. A friend of mine was co-writing a book, and everywhere her co-author had written "water resource," she crossed it out and wrote "water."
Ecosystem valuation puts a dollar figure on the services provided by riparian trees and shrubs, mature forests, wetlands, and other elements of nature. These are essential services, like stabilizing stream banks and hillsides, cleaning water pollution, creating habitat for animals, generating oxygen and moderating the temperature and weather.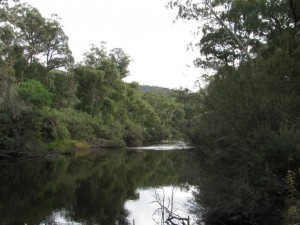 But it's difficult to accurately place value on ecosystems, considering what is left in their absence.  Think of a Mars-scape: no living soil, no plants, no animals or birds, just water frozen in crevices. Who wants to live there?  I'd rather go swimming in Antarctica.
So far, we have been able to capitalize on redundancy (always more fish in the sea, more trees in the forest), but there are more and more cases where we've taken ecosystem services too much for granted – especially as the population grows.
Nature is a Tough Mother: And while we're on the subject of money, there can be huge costs associated with water where we don't want it: floods, landslides, and sewer back-ups. For most of our development history, building cities, roads, and bridges, we've assumed that the water will stay in one channel, with a predictable range of flow rates – more or less forever.
Should we calculate a negative value for water when it breaches the levies and carves a new path through Metro Vancouver or New Orleans?
Floods can also be healthy for the landscape. Farmers for millennia relied on the annual flooding of the Nile, but it's hard to remember that when water is backing up into your  basement.
Adding Value to the Invaluable: The work of the Okanagan Basin Water Board is to add value to the management of the invaluable. Resolving this contradiction is like the word problems you once loved to hate in algebra.
(a)    Water itself is priceless;
(b)   Ecosystems are priceless in theory, but are bought and sold anyway;
(c)    Water is costly to treat and deliver, but people forget because of (a);
(d)   Excess water – in our basements or spilling over roads – also has huge costs;
(e)   We can add value if we reduce (c) and (d), often by relying on (b);
(f)     Deciding the best approach for (e) means we sometimes have to artificially value (b);
(g)    Whatever we do, we need good information and sometimes have to go after more.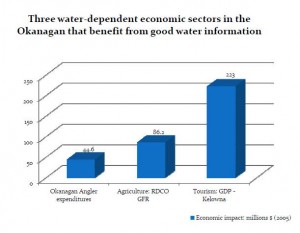 What Price Ignorance?   At a recent meeting, someone asked, "But what would it cost if we didn't do anything?" He was referring to our work collecting water data and information, and our water science studies.
It's a reasonable question, but tricky to answer. What do you compare when weighing potential future paths taken in ignorance?
Having complete knowledge of stream flows, groundwater, future climate change and the value of healthy ecosystems, would be ideal but expensive. Nonetheless, making a mistake about where to site a wastewater treatment plant (often in flood plains, but nasty when they flood), or whether to approve a golf course on groundwater (will the aquifer meet the demand?), can also be pricey for someone down the line.
We always try to go for the biggest bang for the buck: What information is most valuable? Where are the greatest potential costs and risks? How can we bring together people with joint interests to do joint projects?  What gaps can we bridge, across the valley?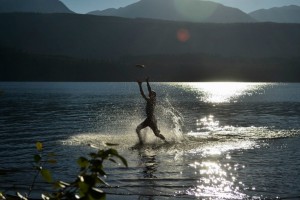 Einstein said, "Everything that can be counted does not necessarily count; everything that counts cannot necessarily be counted."
In practice, we measure what we can, and we count what we can – sometimes in litres, and sometimes in dollars. In the end, we send the new knowledge back out to the purveyors, the planners, and the policy makers so that they can make choices that protect the things we value most.