"They'll clump on rock, they'll clump in pipe, and they'll clump mussel-next-to-mussel-atop-mussel in astonishing congregations of as many as 70,000 individuals a square foot" – Sue McGrath
It's hard to get people excited about invisible threats that haven't arrived yet, but sometimes that's what you have to do.
Let's make a list of undesirable things: salmon extinctions, toxic algae blooms, beach closures, clogged water intakes and storm drains, botulism toxin… The unpleasantries associated with the small but numerous zebra and quagga mussels are many and varied.
Nervously watching them march across the continent, we dived into an awareness campaign to this summer; hoping to forestall a potential invasion from the eastern U.S. and Canada. Zebra and quagga mussels (Z/Qs we call them) aren't in British Columbia yet, as far as we know, thanks to the excellent efforts of inspection stations in Idaho and other states.
It's a scary situation for water providers and other people who work to keep watersheds in good health. Nonetheless, the swell of support for keeping BC zebra mussel free has been amazing. Our "Don't move a mussel" muscle shirts (modeled above) were sponsored by a radio station and a fitness nutrition company, and handed out by the station's party boat at beach events.
Zebra mussels came to North America in the 1980s, transported in the bilge of European tanker ships. Slow and steady, we've helped these leg-less travelers cross the continent – lake to river to reservoir – carried mostly by innocent recreational boaters and anglers. The larvae are invisible, and can live for a month in a bit of wet carpeting – making the urgency difficult to explain.
What's at risk? The Okanagan's lakes are perfect habitat for Z/Q mussels. Our waters are high in calcium, so females can grow rapidly to reproductive size, then produce a million offspring a year for a 5-year lifespan. The sheer numbers are staggering – billions and billions, clumping together, clogging intakes and boat motors, and forming smelly shell-drifts on the beach.
This is no Jurassic Park fantasy, its a true-life story of global change. Species invasions are like disease transmission. It's easy to pass along the hitchhikers as we move food, goods, and travelers – whether the pests are bed-bugs or tiny mussels. But it's tough to mobilize against diffuse threats that involve un-sexy elements like sinister shell-fish, infrastructure damage, dead fish, and border guards.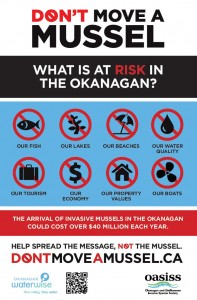 With invasive mussels, we hope for quarantine, and local officials are lobbying for boat inspections at the US/Canada and BC/Alberta borders.
We aren't in this alone. The BC government has tightened the laws, providing the ability for fines up to $250,000 for a first-time offender who introduces invasive mussels into a BC water body. The Invasive Species Council of BC, and the Okanagan and Similkameen Invasive Species Society spent the summer educating boaters about how to reduce the spread of aquatic invaders, in their "Clean, Drain, Dry" campaign.
I've been calling boater education the "ground campaign", and our more general outreach the "air campaign." While going right to the boaters is the most direct action, we wanted to also flood the airwaves, hit the beaches, and even shout from billboards, so that everyone in the valley knows what's at risk. From the City of Armstrong, to the Town of Osoyoos, local governments and businesses have helped spread the word.
Will it work? The best hope is if we have inspection stations at all entry points into BC. The regulations and fines will help, but only if people know about them, and take it seriously. We've heard that the Department of Fisheries and Oceans is working on federal legislation to compliment the BC regs, and this will allow boat inspections at the border crossings. There is some concern that inspections will add to border wait times, but surely there are systems to streamline the process. The price we'd pay for inaction is pretty steep.
Other resources:BC's Controlled Alien Species Regulation; Okanagan "Don't move a mussel" webinar; USDA National Invasive Species Information Centre;