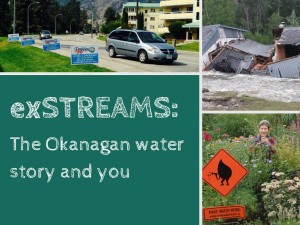 We're very pleased to invite you to this year's popular and FREE annual public forum, celebrating UN World Water Day-Canada Water Week on March 22, 2016, 6-8:30 PM at the Laurel Packinghouse in Kelowna.
This year we are partnering with Okanagan Institute for Biodiversity, Resilience, and Ecosystem Services (BRAES-UBC Okanagan) and are pleased to have well-known Kelowna broadcaster Phil Johnson – host of AM1150's Early Edition – moderating our annual public forum.
This year's event, "exSTREAMS: The Okanagan water story and you" looks at our valley's droughts and floods from a historical First Nation's perspective, and how these extreme weather events are changing, even occurring within the same year. We will look at how Okanagan communities – all part of 'One valley. One water.' – are working together to address droughts and floods, and how individuals can be part of that effort. Special this year, we will have a keynote address from Water Champion MARGARET CATLEY-CARLSON, providing an international perspective to what is a global issue.
Panelists include:
Margaret Catley-Carlson, past Chair Global Water Partnership and Current Vice Chair Canadian Water Network Board – providing an international and national perspective on water issues and how the Okanagan has a place within that;
Sarah Alexis, Okanagan Nation Alliance (ONA) – Natural Resources Project Coordinator & Richard Bussanich, ONA Fisheries Biologist – speaking on the history of water in the Okanagan, changes in the landscape and its impacts, efforts to restore and the importance of traditional knowledge in that work;
Anna Warwick Sears, Okanagan Basin Water Board – Executive Director – sharing on drought, including last summer's extreme 'Level 4' drought in the Okanagan and what's being done to make communities more resilient;
Don Dobson, member (past-chair) of the OBWB's Water Stewardship Council, representing Assoc. of Professional Engineers and Geoscientists of BC – sharing on his nearly 45 years as a professional engineer in flood protection efforts, what he's seeing and how communities are preparing.
Come visit several staffed DISPLAY TABLES, providing residents information (AND GOODIES!) to help build a strong resilient Okanagan community, in their yards and in their neighbourhood – from low-water landscapes to improved home irrigation and more. Those with tables include:
BRAES
OBWB – Okanagan WaterWise
ONA
Okanagan Xeriscape Association
City of Kelowna
Mission Creek Restoration Initiative
Doors open at 5:30pm, event starts at 6pm.
This event is FREE but SEATING IS LIMITED. REGISTRATION IS REQUIRED. Light refreshments will be served.
For details and to register, please visit: http://exstreams.eventbrite.ca.