Seven full-time staff run OBWB programs that serve 13 municipalities, three regional districts and four First Nations communities in the Okanagan Basin. We serve the diverse interests of residents, governments, businesses, non-profit organizations, and visitors in all aspects of water use in the Okanagan.
Executive Director
Anna Warwick Sears PhD; is responsible for the day to day operations of the Okanagan Basin Water Board including the collaborative water management initiative, water quality improvement programs and aquatic weed management. Anna has a background in population biology and watershed planning, and was previously the Research Director for an environmental organization in Sonoma County, CA. In her free time, Anna likes to cook exotic food and go berry picking.
E-mail:

[email protected]

/  LinkedIn
Water Stewardship Director
Nelson Jatel CLGM, BSc, MA; works with the Okanagan Water Stewardship Council to develop practical solutions that reflect the best available science, innovative policy and consensus approaches. Nelson has a background in freshwater science and was previously the Executive Director of the Okanagan Partnership. In his spare time, Nelson enjoys local food, wine, outdoor sports and spending time at his family's vineyard in Naramata.
E-mail:

[email protected]

/ LinkedIn
Operations and Grants Manager
James Littley, CD, MA; manages the program to remove milfoil throughout the valley, is the OBWB lead on policy to prevent invasive mussels and is an experienced administrator and project manager. James has a background in the Canadian Forces with over 10 years of management and leadership experience in that role and is a recipient of the Canadian Forces Decoration (CD). He has an M.A. in sustainability policy, a B.A. in Political Science and Human Geography, and a Diploma in Local Government Administration. James served two terms as a board director for Environment Funders Canada, is currently the Chair for the B.C. Water Funders Collaborative steering committee, and has volunteered in various other roles. He enjoys gardening and spending time outdoors with his wife and two kids.
E-mail:

[email protected]

/ LinkedIn
Communications Director
Corinne Jackson, B.A.;  is responsible for getting the word out about Okanagan water issues and the activities of the OBWB, and is the staff lead on the Okanagan WaterWise communication strategy. Corinne is uniquely suited for this role – with an education in political science, and work experience as an award-winning journalist, having covered numerous beats, including social justice issues. Corinne left journalism in 2001 to pursue a career in communications while continuing to feed her passion for social issues. In her off-hours, she loves to catch up on the news and all things political, play and explore with her two kids and husband, and hone her xeriscape gardening skills!
E-mail:

[email protected]

/ LinkedIn
Policy and Planning Specialist
Kellie Garcia, BSc, PAg; works to facilitate more consistent approaches to water management in the Okanagan by bringing water suppliers together to share knowledge and experiences, identifying and promoting best practices, and looking at ways to integrate and streamline planning strategies and policy tools. Kellie has worked as an environmental consultant for the OBWB since 2007, and joined the staff in early 2016. Kellie enjoys gardening, biking, and spending time outdoors with her husband and two young sons.
E-mail:

[email protected]

/ LinkedIn
Eurasian Watermilfoil Control Crew
Pat Field supervises the milfoil team, provides operational planning and logistical management for the milfoil removal program throughout the Okanagan Basin. Pat is the longest serving staff member of the OBWB, joining in 1991, and has been involved in the development of the control program, design and procurement of new equipment, and the modernization of the  environmental mapping and permitting process. Pat also contributed to the community through his role as a coach for junior hockey for 18 years. Pat enjoys golfing and fishing on his off time.
David Hoogendoorn joined the OBWB as a Milfoil Control Operator in 2015. David is an experienced heavy equipment operator, and runs the machines that remove milfoil from valley lakes as well as conducting maintenance and assisting with procurement. David has been instrumental in the process to modernize work tracking systems, including updating GPS and electronic mapping systems. David loves the outdoors and camping with his family.
Darby Taylor is the newest member of the OBWB milfoil team, joining as a Milfoil Control Operator in 2021. Darby has extensive management experience as a former foreman, lead hand, and business owner in various landscaping companies. Darby also competes and coaches in Jiu Jitsu, helping kids to develop self defense and self confidence. Darby enjoys camping, barbecuing and spending time with his wife and kids.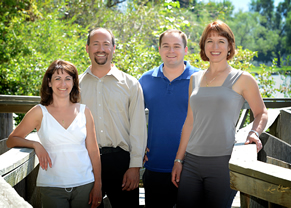 Learn more about OBWB programs: