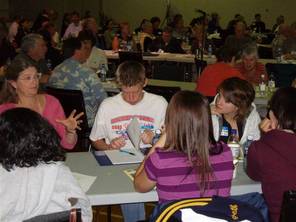 The OBWB organizes and participates in conferences and workshops to share and learn about the latest findings in water science, the best water management practices and governance ideas, and to network with water professionals and interest groups.
Upcoming Events:
Getting Climate Adaptation Tools Out There: A Workshop Process Guide
To aid organizations in raising awareness about available resources, this guide advises on how to design training workshops about adaptation tools. The guide presents a six phase planning process and a checklist for workshop coordinators. Examples are presented based on the Okanagan Basin Water Board's workshop experiences.
Download the Guide (PDF)
With federal funding support through Natural Resources Canada's Regional Adaptation Collaborative Program.
Archives:
Proposed Drought Trigger Guidelines for the Okanagan Mainstem Lakes and River Workshop – November 16, 2016
Osoyoos Lake Water Science Forum
In response to drought in the Okanagan, and increasing stress on fish, agriculture, and other water needs, the Okanagan Basin Water Board (OBWB) gathered together a broad section of user groups to review the situation and coordinate a plan of action.
Okanagan Invitational Drought Tournament
November 16, 2012
From Rain to Resource Tradeshow & Workshop
October 28 & 29, 2010
Drought Planning Workshop
July 23, 2009
One Watershed – One Water
October 21-23, 2008
Groundwater Symposium
January 23, 2007
Water – Our Limiting Resource" Towards Sustainable Water Management in the Okanagan
February 23-25, 2005
Okanagan Leadership Meeting – Running on Empty
March 19, 2004