The Okanagan Basin Water Board (OBWB) and Okanagan WaterWise are pleased to announce the launch of the B.C. AquaHacking Challenge 2020! This challenge, delivered in partnership with Aqua Forum, connects young professionals with mentors to help tackle freshwater issues. The B.C. event is is one of four being held across Canada in 2019-2020.
The five issues chosen to be addressed as part of the B.C. challenge include: contaminants in stormwater, residential and commercial outdoor water use, flood damage and risks, invasive zebra and quagga mussels, and access to potable water in Indigenous communities.
Interested in joining us? Learn more here.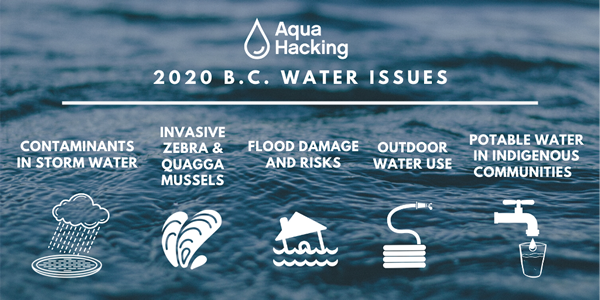 ---
Call for Proposals – July 2019

CALLING ALL WATER LEADERS:
What is your most pressing water issue?
Access Canada's next wave of tech talent, innovators and entrepreneurs through the AquaHacking Challenge and bring a new skill set to help you in your efforts. Since 2015, 14 innovative water-tech start-ups have been established, each dealing with an issue brought by a water issue leader.
As Aqua Forum and the Okanagan Basin Water Board prepare to co-host the B.C. AquaHacking Challenge – Okanagan 2019-2020, we are looking for water issues for young innovators to help solve. The B.C. AquaHacking Challenge will focus on water issues facing the Okanagan, but recognizes that these issues are rarely limited to one area and expect that potential solutions may be relevant provincially, nationally, or even internationally.
If you are interested in engaging a dedicated tech R&D team for your water issue, please download this form (Word doc). Note: you can submit more than one water issue!
The deadline for submission is August 1st, 2019.
From the submissions, five water issues will be selected.
Eligible organizations include:
Government ministries and agencies, municipalities and First Nations, non-profit organizations, academic institutions and industry associations actively engaged in the water sector.
If your issue is selected, you will become one of our AquaHacking Water Issue Leaders. Past Water Issue Leaders include Ottawa Riverkeepers, Great Lakes and St. Lawrence Cities Initiative, Great Lakes Observing System (GLOS), Ontario Federation of Agriculture and McMaster University.
As a Water Issue Leader, there will be opportunities for you to raise awareness about the importance and context of your issue at our launch event in October 2019 and at the challenge final in June 2020. As part of the support we provide to teams, we would ask that you help identify experts / mentors to help coach the teams that will work on your issue. AND – most importantly – at the end of the AquaHacking process, we invite you to be part of the efforts to ensure solution implementation.
For more details and information, please contact [email protected]
Go to the Okanagan Challenge website!
Learn more about past AquaHacking Challenges
at AquaHacking.com and check out past solutions.