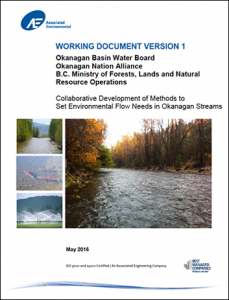 Collaborative Development of Methods to Set Environmental Flow Needs in Okanagan Streams (Associated 2016)
This report presents the results of a study to develop robust methods for determining the Environmental Flow Needs (EFN) of Okanagan streams, and provide information needed to customize the methods for 19 specific tributaries within the Okanagan Basin.
The work represents Phase 1 of an Okanagan EFN-setting project. EFNs for specific streams will be established in future phases.
The Phase 1 study is titled: "Collaborative Development of Operational Environmental Flow Designations for Okanagan Streams". The study proponents were the Okanagan Basin Water Board (OBWB), the Okanagan Nation Alliance (ONA), and the B.C. Ministry of Forests, Lands, and Natural Resource Operations (FLNRO). The work was completed by a consulting team led by Associated Environmental Consultants Inc., with the financial support of Environment and Climate Change Canada.
Main Report (2MB PDF)
References
Appendix A – Workshop Agenda and Summary
Appendix B – Summary of EFN-Setting Methods Used in Canada and Elsewhere
Appendix C – Supplemental Information on the Okanagan Tennant Method
Appendix D – Supplemental Information on the Okanagan WUW Method
Appendix E – Information Relevant to all Tributaries (Fish Periodicity and HSI curves)
Appendix F – Coldstream Creek
Appendix G – Equesis Creek
Appendix H – Inkaneep Creek
Appendix I – McDougall Creek
Appendix J – McLean Creek
Appendix K – Mill Creek
Appendix L – Mission Creek
Appendix M – Naramata Creek
Appendix N – Naswhito Creek
Appendix O – Penticton Creek
Appendix P – Powers Creek
Appendix Q – Shingle Creek
Appendix R – Shorts Creek
Appendix S – Shuttleworth Creek
Appendix T – Trepanier Creek
Appendix U – Trout Creek
Appendix V – Vaseux Creek
Appendix W – Vernon Creek
Appendix X – Whiteman Creek
Resources
This project was undertaken with the financial support of:

Mission Creek Habitat and Intake Mapping